Robot Battles 2006
Robot Battles 2006 Home | Pit Photos | Combat Photos (page 1) | Combat Photos (page 2)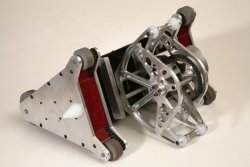 On Monday, Sept 4th, I took OmegaForce 2.0 to compete in the 2006 Robot Battles event at Dragon*Con. Once again, in a effort to handycap wedges and make combat more interesting, the combat surface was littered with 1/4 x 1 inch steel bars and, this time, rubber snakes too! Snakes on a stage! Boring wedge based pushy bots no longer have any advantage in this ecosystem. Other more interesting bot species are replacing them. In fact, Omega Force was defeated by a snake but more about that later.
There were eight 12# bots and eight 30 pounders. The competition was double elimination format. My first match was against TestBot 4.0 (with a lifter weapon) built and driven by Charles Guan. He's a great driver and has beaten me before but I wasn't too worried. His bot was recently optimized for large arena fights and had some serious reliability issues as well. The match went all 3 rounds with both of us driving ourselves off the stage in the first two. The last round went to Omega Force with a spectacular hit that flipped TestBot clear off the stage and on to the Ballroom floor. The crowd loved it.
| | |
| --- | --- |
| | |
| Testbot 4.0 | Probulator |
Next Omega Force was up against Dagger driven by Stephen Chapman. Dagger was knocked around a couple of times by Omega Forces rotary flipper but lost by driving off the stage twice. Maybe it was the intimidation factor. That spinning rotor is pretty scary. Next up was the match I've been waiting for. Omega Force vs Probulator (motto: probes you now and later). This was version 2.0 of the bot that beat me last year. Jason, the driver, is very good and the bot is fast and powerful. It is also equipped with a powerful pneumatic probe used to knock opponents off the stage or pierce thin armor. But, he has to get past my rotor first. The match was going my way with several nice hits and flips to Probulator when suddenly Omega Force lost power in the left wheels. I could only turn left in circles. One of the rubber snakes had become entangled in the left wheel/sprocket/chain! Arrrrg! Snakes in a chain! I also noticed a faint smell of burning electronics. This can't be good. I defended my position for a while with hit after hit forcing me closer and closer to the edge. Eventually Probulator knocked Omega Force off. The 2nd round started with Omega force in the center of the stage but ended the same way. Match lost due to snake infestation.
Back in the pits I opened up the bot and attempted to fix the problem which was a burned PC board trace. Unfortunatly a MOSFET driver chip for the right motor had also died for some unknown reason. With the repaired trace Omega Force could now fight again but with limited control. No brakes on the right side and only very wide right turns. Left turns were normal. I got to fight Dagger again in the loser brackets but lost due to poor control. Now my only hope for a plaque was the Battle Royale (All bots in at once) . Jasons Probulator went on to win the 12# championship. Team Evil Robots Inc also won in 2005.
There were two Battle Royales because the first ended with no bots left on stage. The second one ended with Omega Force victorious! This is the 3rd consecutive year I've won a 12# Battle Royale plaque.
The Omega Force bot build blog is here. Lots of pictures and videos of testing! If you want prints of any of the pictures you see below they are also on Shutterfly in slide show format.
I'd like to thank Keith and Tony for running my video camera this year. Great job guys!
Links to photos on this web site:
Robot Battles 2006 Home | Pit Photos | Combat Photos (page 1) | Combat Photos (page 2)
---
---
---