South Eastern Ant and Beetle Championship 2003
South Eastern Ant and Beetle Championship 2003
Photo Album
November 15th 2003, High Springs FL

Click here to visit the Amdroid-A home page

---
Amdroid-A won first place at The Southeastern Ant and Beetle Championship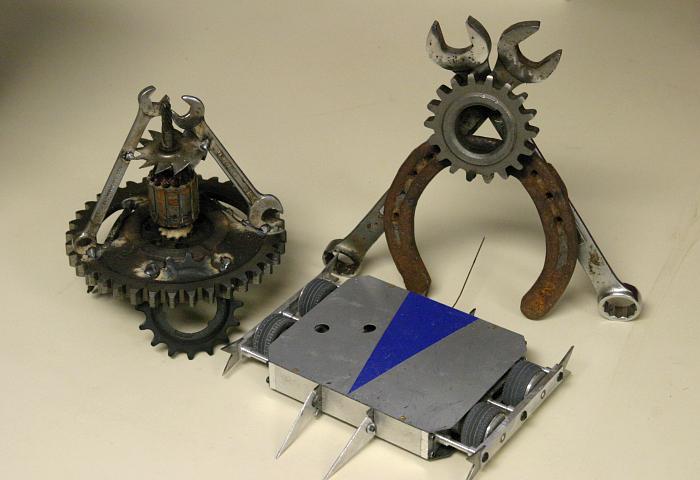 Amdroid-A with trophies
I drove 350 miles to enter Amdroid-A in the Southeastern Ant and Beetle Championship event in High Springs Florida. The weather was perfect for robotic combat, sunny and 75 degrees. Amdroid-A had five one-on-one fights and a rumble event. We won all of them. The 8x8 foot arena had no hazards or push-outs so most matches were judges decisions. Points were scored based on control, aggression, hits and pins. Amdroid-A dominated every opponent and won by wide margins. We also won the "Best Engineered Bot" trophy by popular vote. Amdroids overall record is now 14 wins and zero losses taking first place in 3 events. This bot has performed much better that I ever expected.
Highlights Video
---
The Arena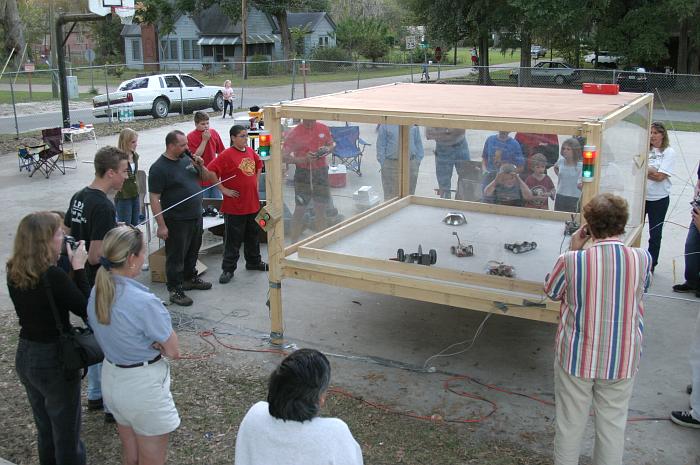 ---
Some Ant and Beetle bots
Ants are 1 pound and Beetles are 3 pounds.

 
Babe the Blue Bot (Ant)
Best Case Scenario (Beetle)
Cousin It (Ant)
BoB (Big ol' Blade) (Beetle)
Flounder (Ant)
Coffee Grinder (Beetle)
Old Reliable(Ant)
Crouton of Death (Beetle)
First Place in Beetle class
Pyramid of Death (Beetle)
Pyramid of Death (Beetle)
Little Thwacker (Ant)
Rain (Ant)
Destroyer(Ant)
Aim & Maim (Beetle)
Fir Darrig
Second place Beetle class
VCA tips the hat (Cousin It)
Fir Darrig forces BoB out of the arena
Pyramid corners Best Case Scenario
Crouton of Death faces Best Case Scenario

 

More photos here at team TestBotsSEABC web page. Charles took second place with VCA (Very Crude Ant).

 
---
Hit of the day: BoB vs Aim & Maim
---
Ant Elimination Tree
---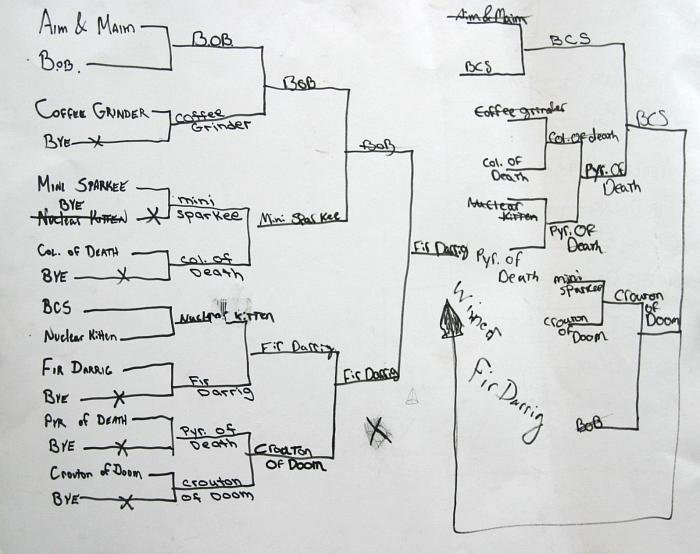 Beetle Elimination Tree
---