The Capitol Offense - 2003
Dales "The Capital Offense, 2003" Photo Album
July 26th 2003, Tallahassee FL

Click here to visit the Amdroid-A home page

---
Amdroid-A won first place at The Capital Offense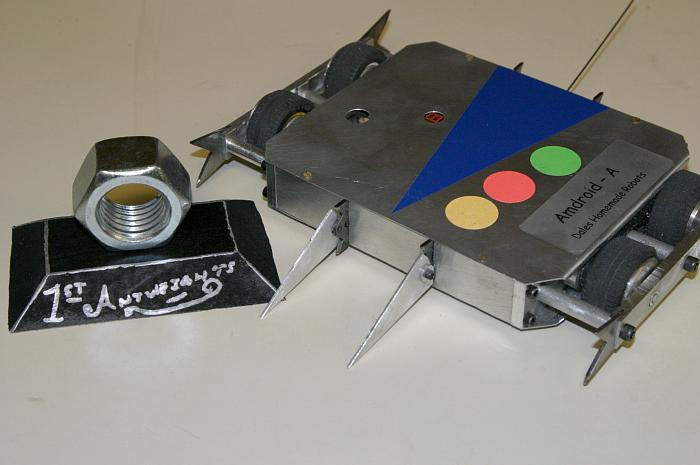 Amdroid-A went into The Capital Offense as a rookie and came out a winner. We had five fights and won them all with ease. The 4x8 foot arena had no hazards or push-outs so most matches were judges decisions. Points were scored based on control, aggression, hits and pins. Amdroid-A had no trouble pinning opponents to the wall and did this frequently. Amdroid-A performed better than I expected. The movie (below) shows a typical fight where Amdroid-A dominated the opponent with repeated hits and pins for the full 3 minutes. We did not get to fight Chiang Shih (spinning bar weapon) so our armor is still untested, however my confidence in Amdroid-A has improved after this event. Amdroid-A will fight next at Dragon*Con Microbattles in Atlanta on labor day weekend.
Movie: Amdroid-A vs Babe the Blue Bot (3.1 meg, RealPlayer format)

Movie: Highlights of several TCO battles (4.2 meg, RealPlayer format)
---
The Site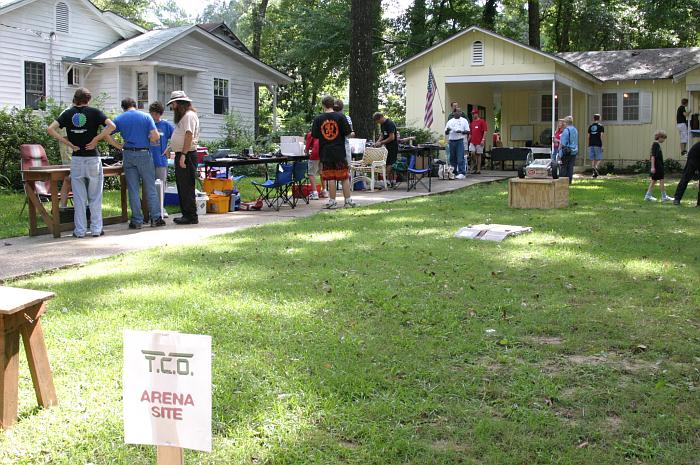 ---
Some Ant and Beetle bots
Ants are 1 pound and Beetles are 3 pounds.

 
| | |
| --- | --- |
| | |
| Fir Darrig (Beetle) | Lowbotomy (Beetle) |
| | |
| Babe the Blue Bot (Ant) | Chiang Shih (Ant) |
| | |
| Hamster Ball of Death (Ant) | Heat Wave (Ant) |
| | |
| Zimon the Wedge Chuck (Beetle, 1st place) | NeQuiDo (Beetle) |
---
Some Competitors
---
Elimination Tree
---