Dragon Con Robot Battles 2011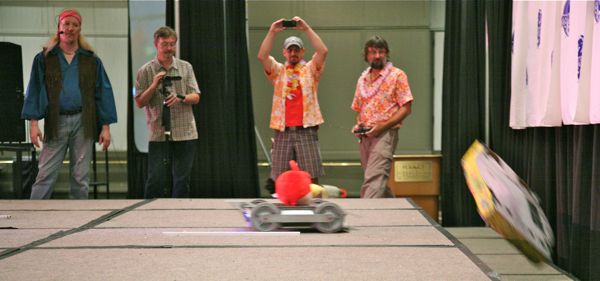 As usual Robot Battles was held in the Hyatt Regency Hotel Ballroom in downtown Atlanta during  Dragon Con.   Kelly Lockhart was emcee, referee and comedian.  My team consisted of my wife Ann and Keith Rowell operating my video camera.  I took both Overthruster and Omegaforce to enter the 12 and 30 pound classes.  Both bots had been serviced shortly after last years event and performed flawlessly.  Unlike last year, no magic smoke was released and all the parts stayed on.  Overthruster was equipped with an Angry Bird velcroed to the top for intimidation/amusement and a tiny camcorder.  Unfortunately the camcorder could not tolerate any motion without severe blurring so the video was pretty much useless.  Everything else worked fine and all I had to do was keep the batteries charged.  But, I did not win anything this year.
The quality of the  bots was even higher this year and the drivers were excellent.  Omega Force was defeated by Mike Jeffries' super fast 12# wedge bot, "Apollyon" and Overthruster was bested by Thomas Kenny's 30# "Pinball".  Both  are great drivers and have fast and powerful wedge bots.  I  think I'll need to make some changes to both my bots before next years event to improve my chances against those guys.  On a more positive note, I did defeat Served Cold, Corn Dog, Beaver of Terror and Dadilion's Revenge. Also Overthruster ripped up about a foot of steel from the stage edge.  Kelly had to use a sawsall to remove it.
The zero ground clearance 1/4 inch high speed bump hazards have been missing for a couple of years.  My bots have small retractable "smart wedges"  designed to drive over those things.   Now that they are gone smart wedges are no longer an asset.   After years of abuse the Robot Battles stage has developed its own natural hazards consisting of raised sheet metal lips around the edges of the four sections.   All wedges including my smart wedges get hung up on those things.  This year a couple of lengths of shelf support bracket material was screwed to the stage for hazards.  Those were at least 1/2 inch high.  That's higher than the ground clearance of OmegaForce.    You never know exactly what's going to be the stage hazard De jour.  Maybe it's time to rethink bot design. Perhaps some sort of ATB  (All Terrain Bot) design with higher ground clearance and a weapon that doesn't need to get under the opponent.
Robot Battles 2011 Highlights
12 and 30 Pound Battle Royales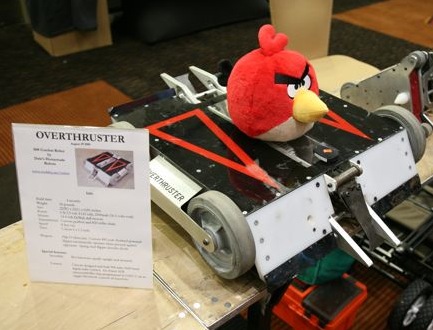 Hit Counter = 6796
---